Board Game No Trivial Matter For Business Majors
By Marisa Gottesman, Sun Sentinel
3:08 p.m. EDT, August 9, 2013
Big hair, neon leg warmers and cassette tapes are 1980s staples that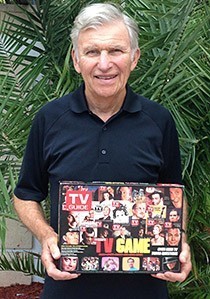 have been locked away in time capsules.
But the TV Guide Trivia Game created by Delray Beach resident Bob Reiss, on the other hand, is a product of the 80s that is still getting attention from college students worldwide.
Reiss, 82, came up with the idea after he witnessed Trivial Pursuit take off in Canada during the summer of 1983.
"I wanted to do a trivia game," the Harvard Business School graduate said. "I knew it would take off in the U.S."
The game was stocked on shelves for just eight months in the mid-80s. The final results: $7.3 million in sales generating $3 million in profits on a $50,000 investment.
As he was finishing up the venture, Reiss told Harvard professor Howard Stevenson about it.
Immediately, he said Stevenson, who is considered "the father of entrepreneurism," at Harvard, lit up with an idea of his own. He wanted to write a case study about how one guy could create a successful business through networking with the proper players in the gaming industry.
The study was completed in 1984, and it is still taught in over 100 entrepreneurship classes worldwide. In most cases, Reiss said, business case studies are taught for one year, because the business environment – along with technology – changes so rapidly.
But in classes this fall, many business majors can expect to learn about Reiss' game and maybe have him in their class as a guest lecturer.
Dr. Larry Klatt, who recently retired after 35 years of teaching at Florida Atlantic University, taught the case with Reiss's help for 20 years.
"It is an excellent case," Klatt said. "It may be dated, but the lessons are still very useful today."
He taught the case because it covers the basic elements of starting a business without money, a challenge many college kids – and others – face every day.
When Reiss came up with the idea, he didn't work for a big name game company like Parker Brothers. He worked for himself with the help of one secretary in an office big enough for one desk in Manhattan.
"I wrote a cold-call letter," Reiss said about reaching out to TV Guide. "It was a six-sentence letter. No one reads long letters."
A week later he heard back from the company, and they were on board.
Entrepreneur Chris Brisson said he paid attention to the case when it was taught in his entrepreneurship class at FAU in 2005.
"A lot of what I learned back then relates to what I do today," Brisson, 31, said about his Delray Beach company Call Loop.
As CEO of a business that provides a text messaging platform for users, he said he used the same networking concepts Reiss did when starting his company.
"I learned how to create a business and a market out of thin air," he said. "It is a great concept."
[email protected], 561-243-6544 or Twitter @marisag_ss
Copyright © 2013, South Florida Sun-Sentinel